Artist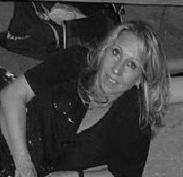 Consuelo Rodriguez  painter, sculptress,  poet and art therapist born in Trieste Italy in 1962.
Consuelo got her training from the "Scuola Libera di Figura" with Professor N.Perizzi in Trieste.
She attended "The School of Visual Art" in New York and the Academic School of Arts in Salzburg with:
The hyperealist Spanish L.Quintailla, with the action painter H.Nitsch and with the Zhou Brothers of Chicago working on a large format.
She also got her training with G.Almbauer using a mixed technique with sand and quartz powder in the Academy of Bad Reichenhall in Germany.
She studied sculpture at Carrara with Professor Boutros and Lufti Romheim.
She has exposed numerous personal and collective in Italy and abroad including New York, Graz, Castillon and Istambul. Her work has been presented in a public and in a private collection in Italy, Austria, Spain and France.
She has received awards both for her paintings and for her anthology of poems which have been translated and published in Slovenian, Albanian and Romanian.
Her poems have been read several times during Aldo Forbice's program on Rai 1 in Italy.
Her collection of poetry arerepeatedly presented in the "Salone del Libro" of Torino and in Basilea.
She also has been selected to participate at the "Biennale di Genova" and "Biennale di Venezia-Trieste"
Awarding a Scholarship to Zhou Brothers Center, Chicago
Awarding a Scholarship at the Academy of Bad Reichenhall, Germany